7 out of 10 stars
If you know Jack and need a respite from faster entertainments, the soothing aroma of spiced coffee beckons you to the Casa Luna.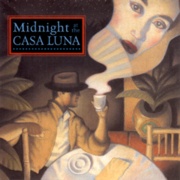 Midnight at the Casa Luna: Part One
A Jack Flanders adventure
By Meatball Fulton (Thomas Manuel Lopez)
ZBS Foundation
1 CD, 65 minutes (ZBS originally sold this tale on two individual CDs, Part One and Part Two: now they package them together. This review concerns Part One only. Next week I'll tackle Part Two.)
1998
My favorite ZBS (Zero Bull Shit) production will always be 1972's The Fourth Tower of Inverness, but it can't be denied the company hit a creative peak in the late 1980's. Tom Lopez (producer/writer/director Meatball Fulton) had solidified his creative partnership with 'Space music' composer Tim Clark, and styling themselves as a pair of old-time explorers ("Fulton and Clark"), the two went on groundbreaking sound safaris in locales like the Amazon. Casts were burgeoning with fresh talent playing delightful new characters, and Lopez' mind was percolating with witty, relevant social commentary. In all of these areas, Dreams of Rio (1987) was a high water mark.
ZBS fell on hard times after the non-profit's National Endowment for the Arts funding was axed by a Republican congress. Soundscape expeditions became more seldom and less elaborate, casting took fewer risks with a more repertory-style approach, NPR stopped broadcasting ZBS productions, and Lopez began to repeat himself creatively. But ZBS had built a fiercely loyal base of listeners over the years, and while the transition to private funding wasn't easy, fan support cushioned the blow.
Although ZBS still occasionally records productions like 2000's Return to Inverness, their days of releasing long-playing sagas seem to be pretty much over. I've come to think of their more recent work, typically 1-3 CD releases with more intimate casts (and budgets), as 'chamber music' compared to the older 'symphonic' releases. There's certainly nothing wrong with 'chamber music'-style audio drama. AM/FM Theater's 2006 'God of the Razor' adaptation, featuring a superlative cast of two, was the best audio drama gem I've heard in years. That said, ZBS' shorter releases have been a mixed success, and the two-part Midnight at the Casa Luna is no exception.
Midnight at the Casa Luna is the second ZBS adventure starring spiritual adventurer Jack Flanders to be set in Bali. Once a reluctant hero, Jack has now accepted his role as a good-hearted investigator of mystic dilemmas. Sometimes people contact Jack for help when things get bizarre, sometimes he simply stumbles into problems himself. He typically solves problems with good humour, a questing intellect, and a gentle heart. Jack never draws a sword or a gun, although he's been known to give wise-ass demons a good beating when they ask for it. But when talking fails and violence threatens, he usually runs away. Jack Flanders has always been more about exploring other levels of reality (and of self) than conquering them.
The story begins as Jack is whisked away from the anonymous streets of New York to subtler realms via a trans-dimensional coffee shop, the Casa Luna of the title. The Casa Luna café really does exist in Ubud, Bali, and it really does have excellent coffee, pastries, and an enchantingly calm atmosphere. As Jack says, it's a favorite haunt of the local expatriate crowd. Those darn tourists like it too, and if you go as one, you'll be happy to be there.
After crossing over into a mystic landscape Jack encounters more friends than foes, but every ally seems to have an agenda and a price for their aid, and none are very forthcoming about what those might be. Forced to rely on opaque benefactors, Jack ultimately finds himself maneuvered into stealing a precious artifact for reasons unknown.
I'd recommend Midnight at the Casa Luna most to veteran Flanders fans. Newcomers would be better served starting at the beginning with the rough diamond Fourth Tower or more polished later work like Dreams of Rio. I say this because only long time listeners will appreciate how Jack has aged. Voices don't age as rapidly as faces, a fact that allows companies like Big Finish to hire actors to reprise roles for audio drama that they originated on T.V. in younger days. Since Jack Flanders first hit the airwaves in 1972 writer / director Thomas Lopez has gotten older, Robert Lorrick (who plays Jack) has gotten older, and so have their devoted fans. Having Jack the character age too, however, is not a necessity but a creative decision.
It's not one without risk. There's a reason most heroes are young: their adventures are usually rites of passage into adulthood driven by the energy and naivete of youth. Older folks tend to be more comfortable with who they are and where they're going. There are classic exceptions of course (Odysseus springs to mind). But the Jack of Midnight, though he retains his bumbling charm, is not the young Jack of Inverness. He approaches problems with a more bemused and relaxed air. One has the feeling that everything can be resolved over a good cup of coffee – no "feets, do your stuff" running from fire-breathing demons here. Midnight at the Casa Luna's laid-back pace isn't going to rip anyone out of his or her seat, but you may find your mind unwinding in its lingering, quiet warmth.
For those who have been to Bali, and particularly to the cultural center of Ubud, (and if you haven't been, by all means, go!) Midnight will evoke many fond associations. Lopez uses the same haunting gamelan tune that is routinely piped over the trading stalls of Ubud, and in the character of Casa Luna proprietor Nani he nails the cheerful yet understated character of Balinese hospitality. I don't know what Phoebe Moon's background is (Korean'), but she does a fine job injecting Balinese authenticity into her quiet purr and indulgent chuckle. Between Nani, the good coffee, and the gamelan music, you really feel like you've slipped out of your time and space into the Casa Luna.
While this adventure never references the Indian / Indonesian epic the Ramayana, thematically it recalls one of its key tropes: The heroic servant. In the Ramayana, the warrior-monkey Hanuman employs his magic and wits to help his master Rama recapture his lady-love Sita from the demon king, Ravana. Hanuman is a selfless agent on behalf of Rama, and while Rama engages in key battles, Hanuman performs several heroic deeds on his behalf. By the end of the story, Hanuman in his humble servitude is arguably the greater hero.
Bali has long had a service economy keyed towards cultural tourism, and while tourism is regularly associated with cultural decline, the Balinese have accommodated it with rare grace. In Ubud you can pay to see cultural performances, but you will also see regular religious rituals in the streets and temples that the Balinese would perform with or without you there. The extremely high quality of the performing arts in Ubud, with its balletic dance troupes and refined gamelan orchestras, also makes a good argument for the positive side of tourism. It's fashionable to deride tourists, as Jack himself does in this adventure, but whether he likes it or not Jack himself is a consummate cultural tourist (and Midnight at the Casa Luna is most definitely an aural form of cultural tourism.) Seeking out an 'authentic' pre-tourism Bali is in any event a doomed endeavor: it vanished a long, long time ago. Luckily for us, post-tourism Bali has many wonders to offer.
In Midnight the ethos of noble hospitality comes through the characters of Nani and Leela, the vivacious Infrit who plays Hanuman to Jack's Rama. Intoxicating, sensual, and playfully cryptic, Leela enables our hero's journey with her magical gifts. Leela, like the 'villain' of the piece, the 'Dragon Lady', is Hispanic, an ethnicity that fits well with Lopez's casting connections but seems out of place for these Asian / Middle Eastern archetypes. Lopez quickly disarms ethnic expectations with his customary humor, and actresses Ana Veronica Munoz (Leela) and Virginia Rambal (Madame Zee, the 'Dragon Lady') are captivating and fully convincing in their respective roles. By journey's end you wouldn't want anyone else.
For a ZBS production of this vintage, there are surprisingly few familiar faces in the cast, which perhaps accounts for its freshness. All the new players were well-chosen, and returning narrator Kirby Airs lends the proceedings just the right touch of classic familiarity for long-time fans. Only Bill Hufnagle's Sir Henry Jowls seems oddly younger and less British than he has in past incarnations, but the dream-like atmosphere of the piece leads you to wonder if perhaps this was the intention. Like all Jack Flanders adventures, this one tests our faith in reality with a subtle Buddhist critique of self-fabricated illusion. The Dalang (puppet master) of this shadow play is never revealed, and none of the characters can be entirely trusted, even to be themselves. (Something part 2 takes even further.)
The sound design is vivid and evocative, whether it's the impatient sputter of an animated Southeast Asian motorbike or the seductive peal of wind chimes lulling you into enchanted slumber. Composer Tim Clark is in fine form, injecting orientalist mysticism into the play's musical ambiance.
With vivid characters, spot-on dialogue, exotic locales, and classic magical gambits Midnight at the Casa Luna is everything I hoped it would be, recapturing the magic of Jack's youthful heyday as experienced through the filter of age. Listeners are transported into a relaxed adventure with an old friend, tinted with more convincing local color and a stronger plot than it's predecessor, Dreams of Bali. If you know Jack and need a respite from faster entertainments, the soothing aroma of spiced coffee beckons you to the Casa Luna.
ZBS sells this adventure together with Midnight at the Casa Luna: Part Two at www.ZBS.org. You can still buy the two adventures separately (as ZBS originally marketed them) from Amazon.
Bonus: In the spirit of Bali fondly remembered, I'm making a separate Malleus post this week featuring a recording I made while on honeymoon in Ubud in 2001 of the Mekar Sari all-women's gamelan orchestra. If you've never heard gamelan music before, I strongly encourage you to give it a listen. The sound is like nothing else on the planet: overwhelming, intoxicating, and truly magical. This recording is NOT featured in Midnight at the Casa Luna, nor am I associated with ZBS productions.
I'd like to thank Tom Lopez and Aaron Ximm (www.quietamerican.org) for inspiring me to make this recording by their examples.