5 out of 10 stars
Ham-fisted sermons on non-attachment don't translate into riveting audio drama.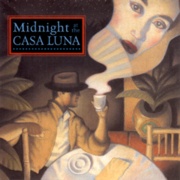 Midnight at the Casa Luna: Part Two
A Jack Flanders adventure
By Meatball Fulton (Thomas Manuel Lopez)
1 CD, 63 minutes
2000
ZBS originally sold this story as two individual CDs, Part One and Part Two: now they package them together. This review concerns Part 2 only. You can still buy them separately from Amazon.
Last week I reviewed Midnight at the Casa Luna: Part One, a solid and entertaining Jack Flanders outing. Does Part Two hold up? Read on . . .
In the wake of Part One, Jack Flanders (Robert Lorrick) finds himself in possession of the mystic green ball he stole for his uncle, Sir Henry Jowls. But Jowls is nowhere to be found. Jack prowls the New York streets hoping to stumble across the trans-dimensional Casa Luna café, which never appears in the same place twice. From there, perhaps he can track down the elusive Sir Jowls and finally unload his magical burden . . .
This episode starts promisingly. Jack's latest night walk takes on a surreal and lightly comedic air as strange weather and a shadowy accordian-man try to stop him from entering the Casa Luna. Eventually Jack succeeds and is reunited with the café's proprietor, Nani (Phoebe Moon). Phoebe Moon's English is perfect, and Tom Lopez has a checkered history writing Asian characters that approach stereotype. In Part One Lopez and Moon wrote and delivered Nani's accented dialogue with credible understatement. This time around Moon's fractured English becomes more exaggerated and is, how you say in your language, 'not as convincing.' The listener can also be forgiven for wondering why Nani suddenly develops a Russian accent and starts threatening Jack with ultimatums. Of course it's just Moon playing a second role, but since both characters sound like the same woman sporting different accents, some confusion is understandable. Is this the Indonesian Nani's evil Russian twin? With a cast this small (five, including the narrator) it's hard to understand why ZBS couldn't just hire another actor. Or perhaps just cut the Russian villain out altogether, as she never reappears, is never explained, and has no real impact on the story.
After chatting with Nani, Jack is once again offered a ride by an enchanted motorbike. Tim Clark's music is as richly evocative as ever, making you hear the dawn break on Jack and the motorbike as they putter along. For all its flaws, there's no question this release has its share of poetic moments rendered in classic ZBS style.
Things start to falter, though, when Jack reunites with Sir Henry Jowls and the mischievous infrit, Leela. Both roles from Part One were recast for Part Two, and unfortunately it makes for a jarring shift. Lopez tries to finesse the cast changes by telling us these versions of the characters are from other dimensions, hence their different voices and personality traits. This explanation doesn't serve the plot, though, and seems more like a flip excuse for real-world casting problems. Art Fairbain's Jowls is more chipper and less calculating than Bill Hufnagle's, but essentially the character remains the same 19th century British adventurer that Murray Head originated in The Fourth Tower of Inverness. It's Ana Veronica Munoz's Leela that I really missed. Gloria Leyva's Leela is more petulant and less natural, so that the infrit's sultry vivaciousness now sounds forced. Worse, the chemistry that bubbled so easily between Lorrick and Munoz has vanished.
Eventually Jack, Jowls, and Leela plot a course to the fabled city of the Merkahbah, which Jack has visited in dreams. Having done it many times before, Lopez and Clark are now old hands at conjuring celestial cities in sound. Not surprisingly then, Jack's visits to the Merkahbah are serenely realized with a few artfully placed sound effects and Clark's ethereal music.
The Tibetan hungry ghosts Jack encounters en route to the city also feature great sound design, emitting ululating squeals and miserable bleats that set the mind on edge. Unfortunately, the ghosts quickly transition from being active antagonists to passive cautionary tales, as Jack and company retreat to a safe distance to observe and offer Dante-esque commentary on the specters' hellish condition. Lopez writes best when he weaves his New Age revelations into the dramatic action, but he's least effective when he resorts to preaching. He does the latter here, using Jack's observations of the hungry ghosts to draw labored and obvious spiritual insights. Many of these lessons have been imparted with greater subtlety and artistry in previous ZBS productions, such as Inanna's unforgettable encounter with the Clay People in Ruby 3. The key difference between that scene and it's equivalent in Casa Luna Part 2 being that Inanna learns her lesson by interacting dramatically with the unfortunate Clay People, while Flanders stands back and just describes what he sees the Hungry Ghosts doing.
Although Midnight in the Casa Luna: Part 2 is a moralistic work, by journey's end so much is left unresolved that it's hard to say what the moral is. Why did the sinister forces opposing Jack's quest (the accordian men, Russian-accent lady) just vanish halfway through the journey? Was there any narrative point to having other versions of Leela and Lord Jowls, or was ZBS simply unable to rehire the original actors? Did Jack succeed or fail in his quest? Does it even matter? Somewhere along the way Part Two's plot gets lost amongst Orientalist set pieces and New Age lectures. Despite this sequel's solid production values it fails to recapture the verve of Part One, and ends up feeling disjointed and anemic.
There's a teaser ending that will bring a smile to old Jack Flanders fans. Rosie and the Originals' 'Angel Baby' still carries such eerie, nostalgic pull that you can almost forget the shortcomings of Midnight at the Casa Luna: Part Two.
Almost.
Next week: A return to German-language material as Malleus explores the shadowy world of Wolfgang Hohlbein's Middle Ages vampire serial in my review of the audiobook Chronik der Unsterblichen: Blutkrieg (Chronicle of the Undying: Blood War.)