6 out of 10
Nihilism saves this pastiche from being completely barren.
?
Written by: Mike Richardson and Randy StradleyProduced by: Tom Voegeli
Directed by: Peter Moore?
Adapted from the 1998 Dark Horse Comics mini-series by Mike Richardson and Randy Stradley.
Highbridge Audio, 1999.
2 CDs
Availability:? In print.
For a universe that seemed so rich with possibility in the 1970?s, Star Wars has proven remarkably barren. Very few Star Wars audio dramas manage to be anything but pale echoes of the classic films. It?s a shame, since there are a number of characters and actors (the voice actors for Boba Fett and Darth Maul come to mind) who wouldn?t be cost prohibitive to use and could be fleshed out with inventive, original stories of their own.? In Germany things are finally happening: considerable energy and talent is now mustering behind new audio plays adapted from Star Wars universe novels.?
The latest effort, Dark Lord: The Rise of Darth Vader directed by superstar hoerspiel producer Oliver Doering, is slated to have a cast of at least 50 professional actors, far beyond anything its US counterparts ever managed.? (The NPR cast of A New Hope clocked in at around 30 players.) This?4 CD release promises to address what happened to Vader between Episodes III and IV.? Personally I?m hoping for some Vader-hunting-down-Jedi action, even though I?m not sure I can handle the Sith Lord spouting Deutsch.? I only hope they can do the impossible, and find an effective German counterpart to the inimitable James Earle Jones. (If you?re curious about Dark Lord but don't read German, an interview with Doering concerning another Star Wars adaptation, Labyrinth of Evil, has been translated into English at this website: http://www.starwarz.com/tbone/index.php?categoryid=16&p2_articleid=1133.? There are no plans to produce?either series in English.)
In the USA the vogue for producing Star Wars audio dramas, at least on a professional level, has lapsed. The NPR adaptations of the original trilogy are old news, and the last three films only inspired more audiobooks. The last burst of professional, US-made Star Wars audio drama happened in the late 90?s, when Highbridge Audio adapted several stories from "expanded universe" books and Dark Horse?s licensed comic book line. Most of these were lackluster. In addition to using music and sound effects from the films, most of them recycled the movies? locales, character types, situations, and plots.
Crimson Empire is no exception.? There is a cantina brawl lifted straight from Episode IV, a desert planet with landspeeders, a light-saber duel over a bottomless pit, a torture droid scene, a threat to punish a planet with Empire super-weapons if the female rebel hero doesn?t reveal the secret coordinates . . . is there an unwritten rule that all Star Wars protagonists have to run a gauntlet of identical scenes? Many of the characters are just as obvious analogues of film counterparts:?? Spirited rebel heroine, large gruff but friendly alien, outsider with mysterious abilities, etc. And inevitably, there are more painful Star Wars colloquialisms than you can shake a Yavinite Wampspider at. But Crimson Empire does have one thing to recommend it: a leading anti-hero whose skewed perspective makes revisiting the Star Wars universe interesting.
?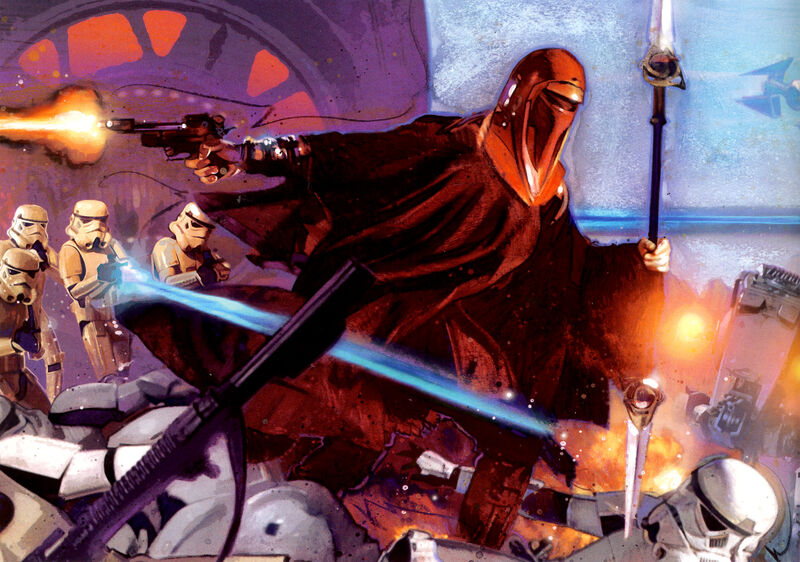 Patrick Coyle plays Kir Kanos, former Royal Guard to Emperor Palpatine. In the movies the Royal Guards were just cool-looking dudes with red visors and cloaks who marched around briefly, providing little else but templates for cool-looking action figures. Crimson Empire provides us with their backstory, informs us they have the combat skills (but not force powers) of Jedi, and chronicles the disintegration of their order. Neither good nor evil (except by allegiance), their defining trait is unquestioning loyalty to the Emperor. But what happens when the object of their devotion dies? Bereft after fellow guardsman Carnor Jax sabotages the slain Palpatine?s only chance for resurrection, Kanos finds new purpose in seeking revenge against the traitor.
Coyle?s understated, terse performance imbues Kanos with lethal tension. Kanos is chiefly interesting for his moral ambiguity: his icy reserve is shaded by personal honor easily mistaken for a nobler sense of justice. For most of the play Kanos serves as a screen upon which other characters project their desires, chief among them that he become the hero they need. Coyle?s non-committal yet sympathetic voice awakens this desire in the listener as well, but never gives the game away.
The rest of the cast performs with mixed success. Faring best are Gary Groomes (Colonel Shev and Emperor Palpatine), David Anthony Brinkley (General Wessel), and Wayne A. Evenson (Tem Merkon). Robert Downing Davis? Carnor Jax sounds more archly effete than menacing, and?a couple of his imperial officers sound like little league coaches?pressed into service as?soldiers.? Nichole Pelerine is fine as Leia analogue Mirith Sinn, but lacks the presence of Carrie Fisher.? Since no actor has ever been able to pull off credible impressions of any of the original Star Wars cast, Crimson Empire benefits from the absence of Luke, Leia, and Han. Almost all of the characters here are new: only Darth Vader, Emperor Palpatine, and Biggs Darklighter get cameo moments. Gary Groomes convinces as Palpatine, but Crimson Empire proves again that no one can stand in for James Earle Jones. To his credit, Jim Cada?s attempt at Vader is better than most, but he still sounds like an actor trying to sound like Jones rather than the character himself.
Dialogue tends towards the portentous and melodramatic, not surprising?since most of it?is lifted verbatim from the Dark Horse comic book miniseries that inspired this audio adaptation. For much of the audio adventure you could actually read along with the comic, almost like those old story LPs from the 1970s.
Sound design consists of solid?if uninspired recycling of well-worn material from the films. After years of re-use in video games, audio dramas, and cartoons, Star Wars music and sound effects inevitably sound canned and sterile.
Ironically, it is the emptiness of Crimson Empire?s anti-hero that saves it from being as barren as other Star Wars pastiches. This is no Joseph Campbell "hero?s journey": Without a connection to the Force to tempt him towards Dark or Light, Kanos treads a grey path unconcerned with personal redemption or damnation.? If Vader is Faust, Kanos is Ogami Itto walking the road of meifumad?. The Royal Guard?s relentless drive for vengeance gives the drama a nihilistic spark that sets it apart.
If the Star Wars story must be replayed, let it be through a fractured glass.
Next week:? Young company Lausch (Listen) slashes its way into the German audio drama scene with an adaptation of R. A. Salvatore's Forgotten Realms novel, Drizzt – Die Saga von Dunkelelf 1:? Der Dritte Sohn.? (Drizzt, Saga of the Dark Elf 1:? The Third Son.)