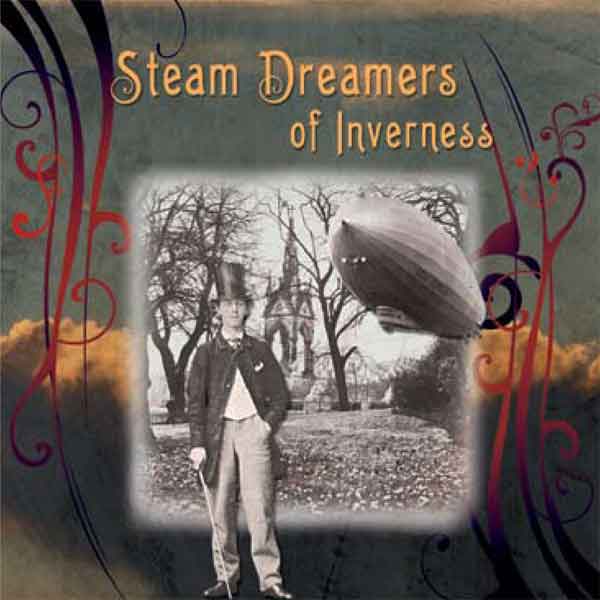 Audio fans delight, there is fresh Jack Flanders to be had. And boy, is it steamy.
As we showcased a few weeks back with Lady Windemere's Brass Fantabulous, ZBS has been on a steampunk kick, culminating in the release of the newest Jack Flanders adventure, Steam Dreamers of Inverness.
In this tale, we're invited back to that magical place, with thousand of windows like so many eyes turned inward, and re-introduced to our friends Jack, Mojo and Claudine. Jack's trying to figure out what to do with the old mansion when he discovers a mysterious device… When activated with steam, the device sends the user into a steamy, Victorian world of dreams.
Get a taste of it in this sample:
[audio:https://www.zbs.org/catalog/audioSamples/SDI.mp3]
For fans of Jack, you'll find all of Tom Lopez's witty rapport ("This clean coal isn't clean at all!" / "Well, it's a dirty business") as well as mystic overtones (Mojo gives us some anecdotes exposing the Buddhist heart of Christianity), and signature dimension-traveling exploits. There's a welcome, comfortable feel in that musty old castle, and a feeling throughout the production that everyone involved is happy to be back home.
The MP3 download of the 2-hour production is available on ZBS' website for a meager $17.
If you've never had the joys of listening to Jack Flanders, I suggest you start the journey now, it's a wonderful one to take:
The Fourth Tower of Inverness – The original classic audio, ZBS' original piece which mixes 60s culture, eastern mysticism, fire-breathing dragons, alchemy and dimension traveling for a romp unlike any before seen in audio
Moon Over Morocco – Jack Flanders' second adventure takes him to exotic Morocco, where legends of the desert are relived and he meets Mojo the mystic piano man
Return To Inverness – I have a soft-spot in my heart for musty old mansions and so the Return to Inverness charmed me as much as the original. Went Lady Jowls passes on, traveling Jack returns to the mansion to figure out what to do with it… Just in time to start getting hoodwinked with disappearing rooms, furniture, secret passages, and the other denizens of the mansion.
Visit ZBS' site for a full listing of Jack Flanders adventures.